Join Sunrise MarketPlace and KHITS as we team up to help our community with the Turkey and Fixins Food Drive at Marketplace at Birdcage. Help us provide Thanksgiving Dinners to families in our community that are experiencing food insecurities this holiday season.
WHAT WE NEED:
Frozen Turkey
Canned Fruit
Canned Yams
Bag of sweet potatoes or yams
Bag or boxed stuffing mix
Canned vegetables
Bag or canned beans
Box of instant potatoes
Bag of potatoes
Rolls (frozen, fresh or refrigerated)
Canned cranberry sauce
Canned or packets of Turkey Gravy
Boxed cake or dessert mix
Bag of rice
Boxed mac and cheese
Boxed cereal
Boxed instant oatmeal
Boxed coffee/tea/hot chocolate
---
WHEN TO DROP OFF:
Saturday, November 21, 2020
11 am – 2 pm

---
WHERE TO PURCHASE DONATIONS:
WALMART
6197 Sunrise Blvd,
Citrus Heights
TARGET
5837 Sunrise Blvd,
Citrus Heights
SMART & FINAL
7945 Madison Ave,
Citrus Heights
SPROUTS
7905 Greenback Ln,
Citrus Heights
---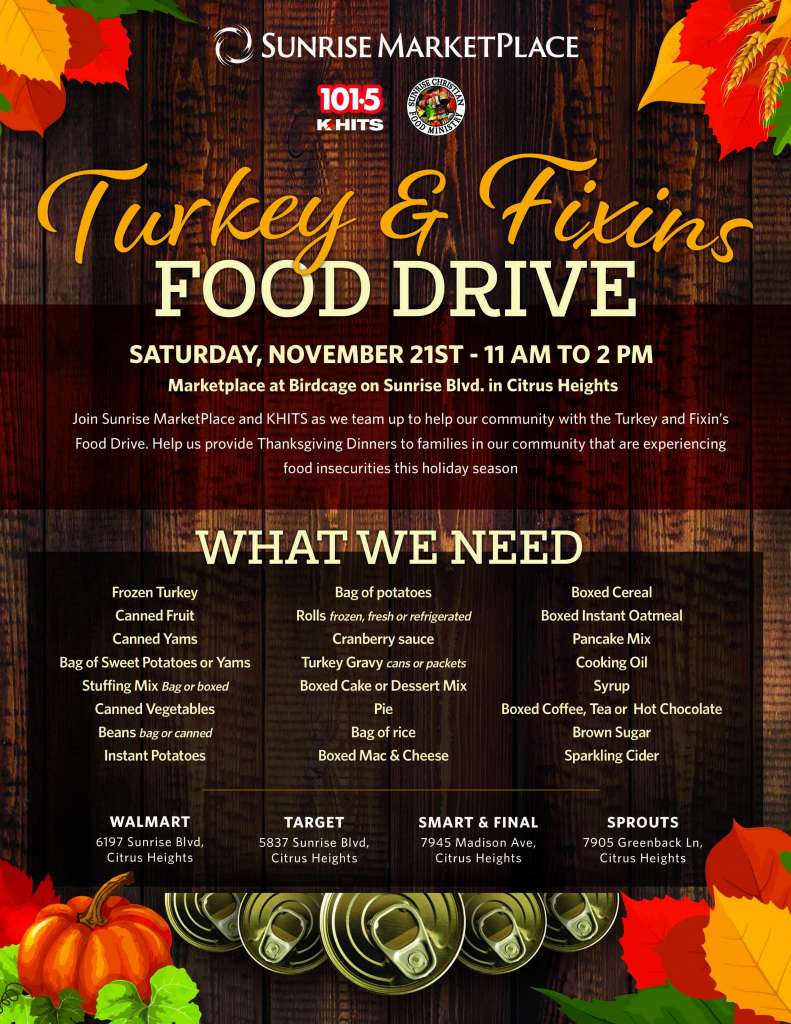 ---
DONTATE MONEY:
To Donate Money to the Turkey & Fixins Food Drive, Visit the link below. Be sure to add SMP to the comment section as we will be Matching a portion of donations.
---
RESOURCES
If you are in need of resources, follow this link to the Sunrise Christian Food Ministry.
Sunrise Christian Food Ministry Resources
---
THANK YOU