Business Support Resources
To help our businesses get through this challenging situation, Sunrise MarketPlace has developed the attached toolkit with helpful resources, tips and digital assets to help you while keeping your business, employees, customers and our community safe. The toolkit includes financial resources and links, how to sign up for delivery services, fee free e-gift certificates as well as grab & go graphics, social media tips and marketing ideas.
*If you are a business in the Sunrise MarketPlace District and do not have the resources to create a custom COVID-19 graphic for your website and/or social media, please contact lisa@sunrisemarketplace.com, and we will be happy to assist you.
Discount Reimbursement Program
Sunrise MarketPlace is reimbursing your business for discounts that you give your customer. Small businesses located in the Sunrise MarketPlace Business Improvement District are eligible. SMP will reimburse your business up to $500.00 in our Discount Reimbursement Program. Offer open to the first 20 small businesses located in the Sunrise MarketPlace.
Sacramento County Current Tier
SACRAMENTO COUNTY GOES RED
As of Wednesday, March 17, 2021 Sacramento County is in RED Tier.
Under the red tier, businesses are allowed to resume operations indoors, including:
Indoor dining with 25% occupancy.
Movie theaters and family entertainment centers with 25% occupancy.
Museums with 25% occupancy.
Fitness centers and gyms with 10% occupancy.
Retailers and grocers are also allowed to bring their maximum capacity up to 50%. The designation also sets out new incentives for school districts to reopen for in-person instruction.
Reopen Safely ​
In support of our business community, Sacramento County is providing the following information from the State of California.
Follow the Employer Playbook for a Safe Reopening to help plan and prepare for reopening your business.
The playbook includes detailed information on:
When and how an employer must report a COVID-19 positive employee.
What is defined as an outbreak.
Guidance for employers who may be considering whether to suspend operations due to COVID-19 spread in the workplace.
All businesses and ​facilities must follow the items listed here before reopening:
Perform a detailed risk assessment and create a worksite-specific protection plan.
Train employees on how to limit the spread of COVID-19. This includes how to screen themselves for symptoms and when to stay home.
Set up individual control measures and screenings.
Put disinfection protocols in place.
Establish physical distancing guidelines.
Establish universal face covering requirements (with allowed exceptions). See CDPH guidelines (PDF).
Post your completed checklist so everyone can know the steps you've taken. Feel free to add more safety measures to the ones included in your industry's guidance.
Employer Policies and Resources
It's important that employees with C​​OVID-19 know they should stay home. Your sick leave policies need to support that. Workers also need safe and reliable childcare options during the COVID-19 response. See information on:
Counties are required to remain in an assigned tier for a minimum of three weeks and must meet the criteria for the next tier for two consecutive weeks before being able to advance to the next tier.
"To advance back into the Red Tier 2, Sacramento County needs to have lower daily case rates. The only way to do that is to do what we know works," said Sacramento County Health Officer Dr. Olivia Kasirye. "We all have a part in this and we must be committed to social distancing measures in public spaces (6ft apart, wear face coverings, wash hands, etc.) and to avoid gathering with non-household members."
To learn more about the State's Tier system and specific allowable activities for Sacramento County, visit the State of California's COVID-19 Blueprint for a Safer Economy website.
For questions about the Public Health Order, call the Public Health hotline at (916) 875-2400.
For more information about the County's response to COVID-19, visit Sacramento County's COVID-19 webpage.​​
Paycheck Protection Program Round Two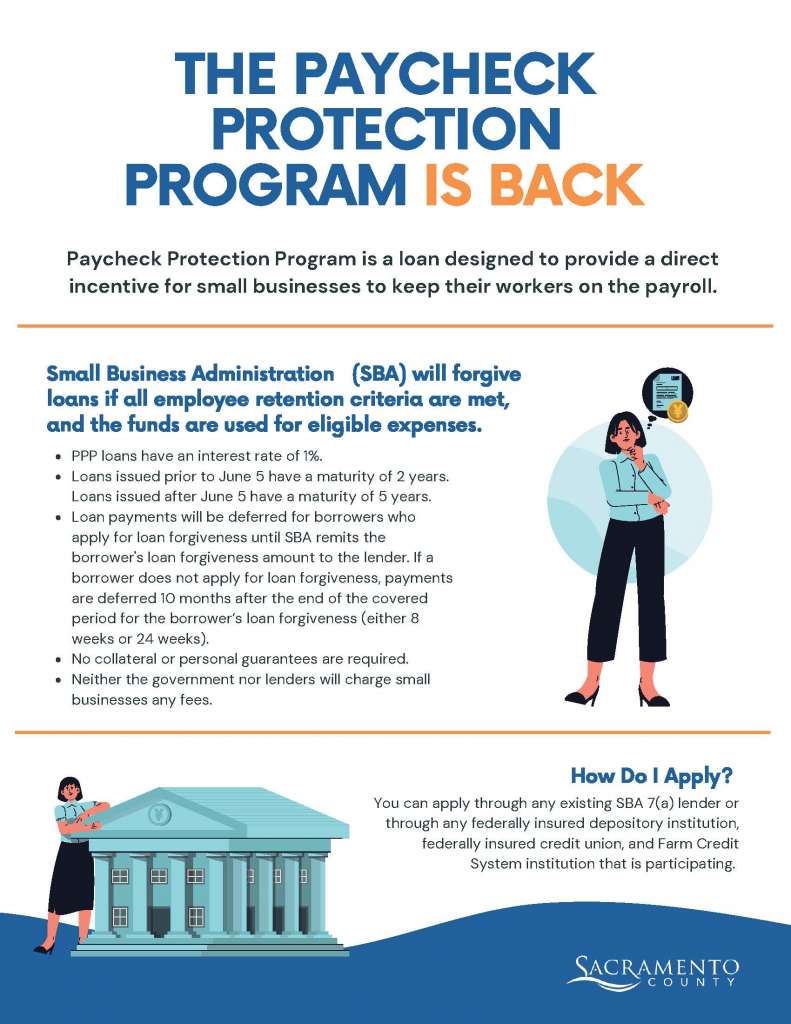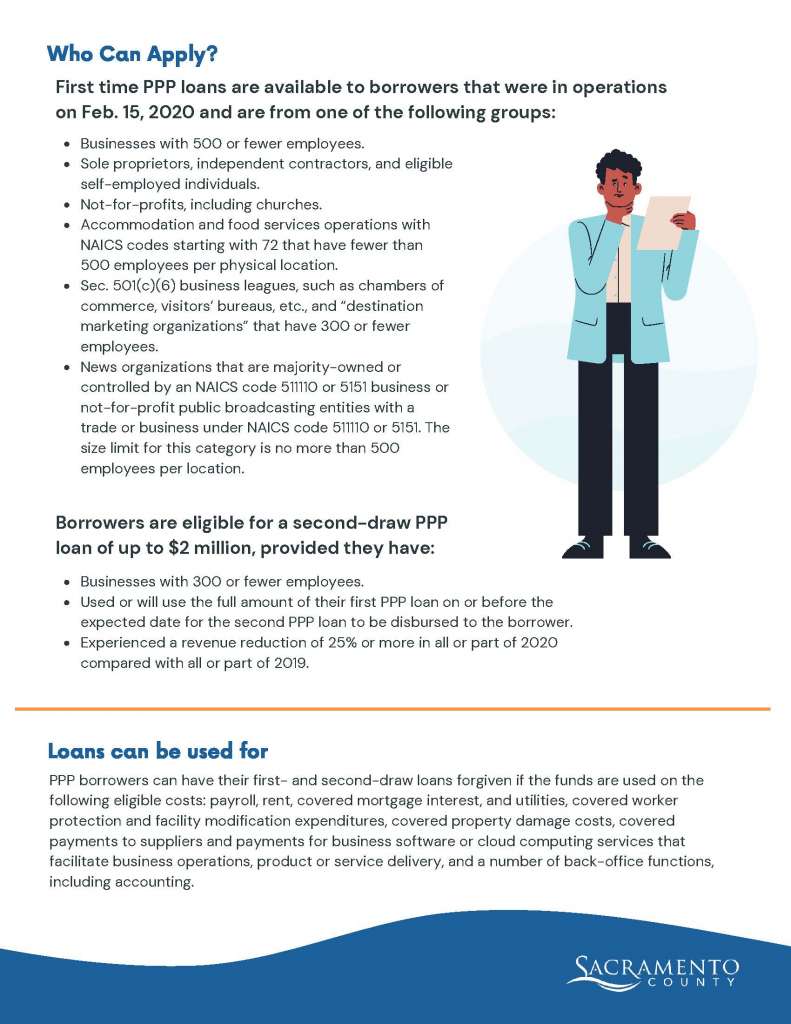 Disaster Loan Application
FOR ALL APPLICATIONS THE FOLLOWING ITEMS MUST BE SUBMITTED.
Loan application (SBA Form 5), completed and signed (this is electronic/online in the portal)
Tax Information Authorization (IRS Form 4506-T), completed and signed by each applicant, each principal owning 20 percent or more of the applicant business, each general partner or managing member; and, for any owner who has more than 50 percent ownership in an affiliate business. Affiliates include, but are not limited to, business parents, subsidiaries, and/or other businesses with common ownership or management
Complete copies, including all schedules, of the most recently filed Federal income tax returns for the applicant business; an explanation if not available
Personal Financial Statement (SBA Form 413) completed, signed, and dated by the applicant, each principal owning 20 percent or more of the applicant business, and each general partner or managing member
Schedule of Liabilities listing all fixed debts (SBA Form 2202 may be used)
All of these forms are available in the Disaster Loan Application Portal.  The more complete the application is the faster the process will be.
Please be patience while the SBA works though the unprecedented volume that we are seeing. As an alternative to the small businesses that are reaching out please see the attached paper forms and here are a few ways to submit.
Online Portal:  https://disasterloan.sba.gov/ela/
Paper Applications are found here: https://disasterloan.sba.gov/ela/Information/PaperForms
Email:  disasterloans@sba.gov
Fax:  202-481-1505
Mail: U.S. Small Business Administration
Processing and Disbursement Center
14925 Kingsport Rd.
Ft. Worth, TX 76155-2243
For program questions or assistance in completing the application online, businesses can contact our Disaster Customer Service Center at 1-800-659-2955 or email at disastercustomerservice@sba.gov.
CARES Act
On March 27, 2020, the Coronavirus Aid, Relief, and Economic Security Act (CARES Act) was signed into law. The CARES Act provides approximately $2 trillion in funding to stabilize the economy and provide broad relief to individuals and businesses directly or indirectly impacted by the COVID-19 pandemic. This guide provides information about the major programs available from the Small Business Administration (SBA) to address these needs, as well as additional tax provisions that are outside the scope of SBA.
UPDATE: Congress recently approved an additional $310 billion in funding to restore the PPP Program, which had run out of money. 
FINANCIAL ASSISTANCE Additional Resources 
California Infrastructure and Economic Development Bank (IBANK)
IBANK
A unit within California Governor's Office of Business and Economic Development (GO-Biz), that offers the following loan programs for businesses from one to 750 employees (small businesses):
DISASTER RELIEF LOAN GUARANTEE PROGRAM (DRLGP)
For declared disaster areas to help lenders and small businesses by providing loan guarantees of up to $1 million
JUMP START LOAN PROGRAM
Loans from $500 to $10,000 to low-wealth entrepreneurs in the declared disaster and emergency areas
California State Treasurer Office
CALIFORNIA CAPITAL ACCESS PROGRAM (CalCAP)
Designed to provide up to 100% coverage on certain loan defaults
Watch List
Coronavirus Vaccine Updates:
To ensure the limited supply of the vaccine is distributed equitably, distribution is guided by the California Department of Public Health (CDPH) in collaboration with the Centers for Disease Control (CDC). The vaccine will be provided in phases to those with highest risk. Sacramento County Public Health will be working with local partners including hospitals, long-term care facilities, and clinics for vaccine distribution.
SacCountyVaccinatingNow Flyer (1)
Click here for Sacramento County Public Health Vaccine Page.